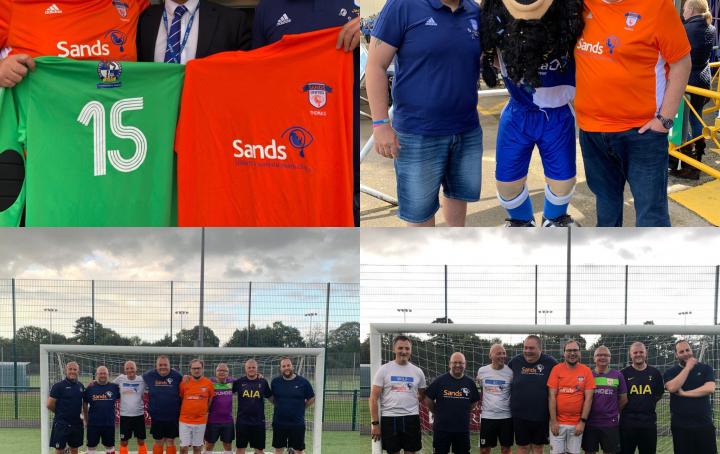 Sands United Bristol FC - 3rd Training Session & Bristol Rovers Community Trust Partnership
18 August 2019
Our football team have had a busy week!!
On 5th August we held our 3rd training session and first time at Coombe Dingle Sports Complex. Think we all agree it was a great place to train at. We started off by meeting Adam Tutton (CEO of Bristol Rovers Community Trust ) who explained a bit about what they do and how we got in touch and how they are helping us out with kit and social media etc. After photos it was down to the football. Eight players turned up so it was 4 on 4 with the playground favourite 'rush goalies'. As with previous training sessions it was a warm night. The only difference was last night it poured with rain while we played!! Think it's fair to say that despite the rain it didn't dampen the enthusiasm of those there nor the level of skill on display. Playing rush goalies meant every now and then a couple we chances our arm at replicating Beckhams efforts from the half way line. Pete Byrom took most of those chances and it's fair to say they were 'aerosol' shots (he was spraying it everywhere). 
Couple of noteable mentions from last night. Goal of the night is a tie between Neil Coombs and Olly Jefferies. Neil's was reminiscent of Maradonna v England in the 86 World Cup (no he didn't use the hand of god) a run from midway dribbling past the opposition and burying it in the back of the net. Olly's effort was a shot that hit both posts and then crossed the line (vote below for your favourite). 
Tackle of the night goes to 'fresh air' that took Reg Coombs out. Reg was towards a corner and went down while stepping over the ball. Several of us hit the deck as the way Reg went down we thought a sniper was operating in the area. Nothing as dramatic it was fresh air that took him out. 
We started to lose a bit of light towards the end of the session as it was cloudy but thanks to the flow coming off the orange socks we hardly noticed until the floodlights kicked in. 
Anyway I think it was a good session enjoyed by everyone who was there. Next session is at the same place but on Wednesday 21st August from 1900-200 (£5 per player). 
Then on the Saturday Team Manager Peter Byrom and Club Treasurer John Ross were guests of Adam Tutton and our friends at Bristol Rovers Community Trust. Before the game Peter and John met club owner Wael AlQadi - showing him the shirt that the Community Trust have kindly sponsored. Before the game Peter and John went onto the pitch to talk to the crowd about the team and the aim of the team. 
Bristol Rovers Community Trust have been extremely helpful in helping the team with their launch game - especially by organising the location of their launch game.