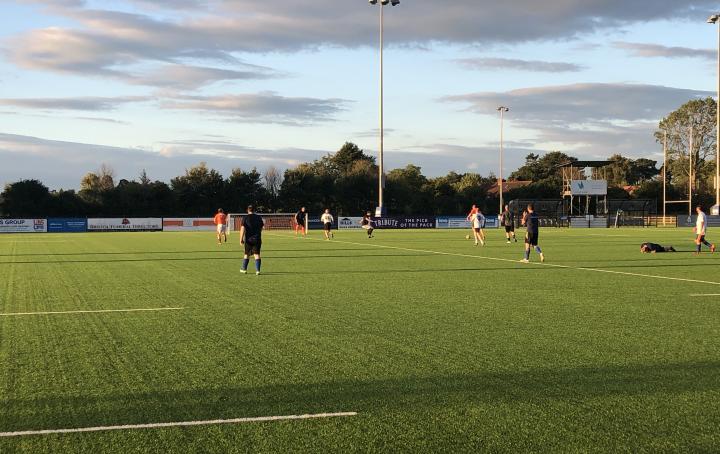 Sands United Bristol FC - 2nd Training Session
18 August 2019
On 2nd July we held our 2nd Training session under a setting sun at Shaftesbury Park. 16 of us turned out including a couple of guys who were there for the first time. The session started with the squad all gathered for a moments silence to remember our angel babies - our reasons for coming together. 
We were then underway - no drills this week just straight into a game. 
It has to be said that the setting sun was causing a few issues trying to pick the floated passes up as they went through the air (that's my excuse and I'm sticking to it!!). As with our first session there was some great skill on display. It was a good kick about and the result of the game isn't clear - the blue shirts think they won the game, the coloured shirts think they just edged the encounter with that playground tie-breaker 'next goal wins'. 
Some notable mentions from last night - 
GOAL OF THE NIGHT - for the 2nd session running it has to be John Wilford with an absolute screamer into the top right corner of the goal. 
PASS OF THE NIGHT- Adam Sturgeon for his 'Rene Higuita inspired half scorpion' effort that found its 'intended' target. 
MISS OF THE NIGHT - tough one to call. Both Neil Coombs and John Ross has clear cut chances on goal but both did the more difficult thing and stepped over the ball rather than shooting. A late contender was the gaffer Pete Byrom who in an attempt to clear the ball and try to launch one that would catch up with Rob Tuckers shot from the Cardiff game 2 weeks ago (that still hasn't re-entered the atmosphere) could only (despite a massive swing at the ball) slice it off the outside of his foot and have the ball travel about a yard. 
We now have some competition for goalkeeper. Keith 'The cat' La Grange kept up his form from the Cardiff game, while Russell 'the Wall' Warner was solid between the posts. 
All in all a great session and we're looking to get another couple of sessions in the diary shortly.