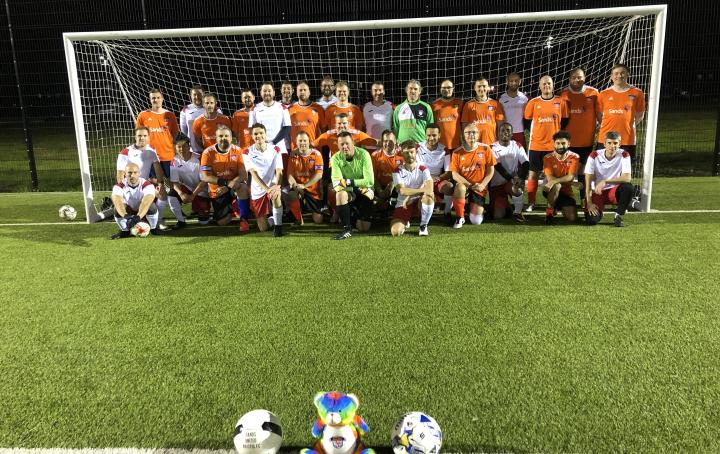 Sands United Bristol FC - 2nd Game
21 November 2019
On Saturday 16th November our football team donned their orange shirts for a 2nd time and went in search of their first win.
This time they were playing a team from Craddys who had donated prizes for the raffle held at the launch game. Beforehand we agreed to play the game in four quarters to try and make substitutions easier.
We always play and train in memory of our angels. This game was particularly poignant as we were remembering John S daughter Lucy who'd have been 10 on Friday and John R son Jacob who's have turned 6 on match day. 
Before the game both teams joined together for a minutes silence to remember our babies. 
The match started off at a good pace with play moving from end to end. Both teams creating chances and Sands United Bristol coming close to scoring first. It was Craddys that scored first but not long after Sands equalised courtesy of a well directed effort by Damo. 
Half way through the first half Sands made their first substitutions and not long after took the lead through a goal from David Shaw in his debut. It looked like Sands would take the lead into half time until a late shot from Craddys took a deflection and left our keeper with no chance of making the save. So all square at 2-2 at halftime. 
At the start of the 2nd half Sands made some more substitutions and early on took the lead courtesy of a screamer of a shot from John Wilford. Play continued to move from end to end through the 3rd quarter. Towards the end of the 3rd quarter of the game Craddys were awarded a penalty for handball in the area that Reg maintains wasn't a penalty. Craddys converted and levelled the game going into the final quarter. 
Bristol made their final substitutions going into the last quarter and were still hopeful of getting our first win. 
As the final quarter went on a combination of the fitness of the Craddys team and a hamstring injury to Adam who was playing in goal meant that we lost a bit of shape and Craddys took full advantage to slot home a few more goals. The final score was Sands United Bristol 3 - 11 Craddys. 
Despite the result all players enjoyed the occasion and all gathered to share a drink and some food after the game. That's when our man of the match was announced. On debut it was John S.