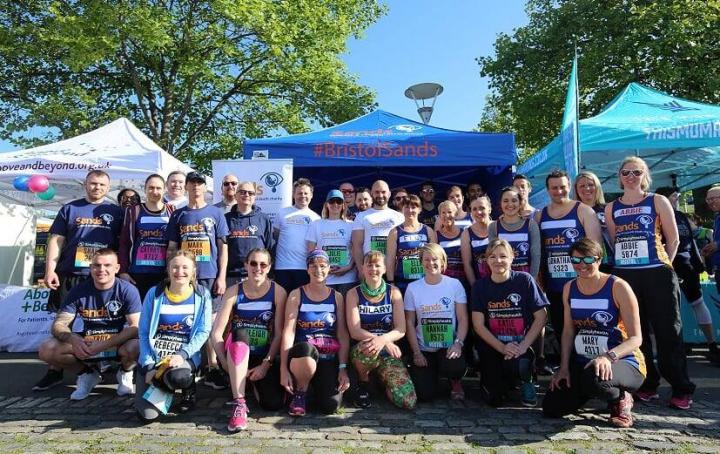 Bristol 10k 2020 - #10kfor£10k
3 February 2020
Are you looking for a new challenge this year or maybe you just want to achieve a personal best along a beautiful 10k course?
We are back in Bristol at the Bristol 10k and we want YOU to join our team.
Take on the Bristol 10k for Sands and raise vital funds to help support anyone affected by the death of a baby, improve bereavement care and fund research to save babies' lives.
Why 10k for £10k?
£10k will help provide support to bereaved families in and around Bristol including local meetings, telephone support and remembrance events. It will enable Bristol Sands to work with St Michael's and Southmead hospitals to maintain and improve their bereavement facilities and provide bereavement care training for healthcare professionals in the local area. Your support will help Bristol Sands make an impact locally, and reaching our £10k target will mean we can continue this work for another year and help support other Sands' work.
As a #TeamSands runner you'll receive:
• Sands running vest
• Sands T-shirt to wear when fundraising
• Fundraising support and fundraising materials to help you reach your fundraising goal
• The opportunity to join with other Sands runners in the Bristol area
• Incredible support on race day from Bristol Sands which your friends and family can join too
• A Sands marquee within the runners' village, access to water and other refreshments. Come and celebrate your achievement and take your medal photo
• A dedicated cheer point with the loudest cheers on race day!
How you can sign up
You have two options:
1. Secure your own place via the Great Run website. Click here and sign up today. Once you have secured and paid for your own place register your fundraising by following this link here and make sure you say in your registration you are running for Bristol Sands
2. Apply for a Sands Charity place. We have 5 available and in return for your place we'll ask you to raise £350 for Sands. To apply for your place just click here
What will happen next?
Once you have your place or applied for a place, Team Sands and Bristol Sands will support you by answering any questions you have on fundraising , advise you on how to set up your fundraising page , provide you with information on training support with our very own Sands running coach who has over 20 years' experience. We will also be on hand to answer any questions you have about on the day.
The only other thing we need you to do it tell all your friends, family and work colleagues and ask them to join the team too! You could even create your own mini team within #TeamSands for competitive friends and work colleagues.
If you have any questions then please don't hesitate to contact us. Thank you for your amazing support! We're already looking forward to this fabulous event.
http://www.justgiving.com/team/sands-bristol10kfor10k