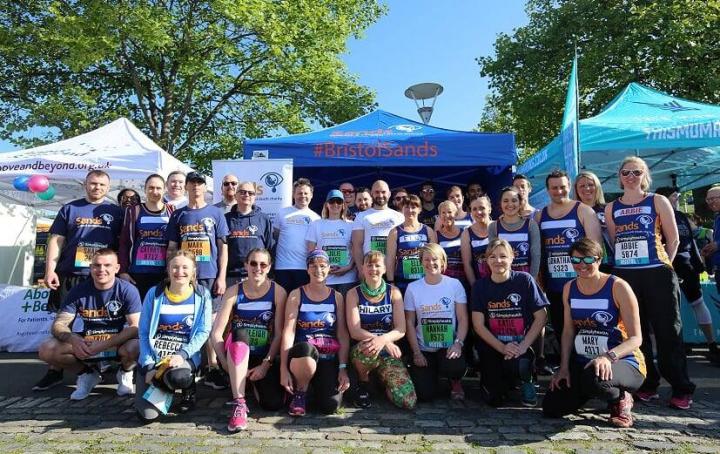 Bristol 10k - 2019
7 May 2019
What an event the Simply Health Great Bristol 10k was!!! The run took place on Sunday 5th May under a clear blue sky (and a bit warmer than some of our runners would have liked!!). I think its fair to say that all runners enjoyed themselves and some have already registered for next years Bristol 10k!! Bristol Sands Chair, Charlotte, had this to say about the day -
'Now that hopefully the aches and pains are receding, we just wanted to say another huge thank you to all our runners at the Bristol 10k 2019 and to everyone who helped, supported and sponsored to make this year our most successful yet. 
In total we had an amazing 53 runners, all raising vital awareness as well as fundraising towards our own St Michaels Consultation Room Project, and for both North Devon Sands and for Sands directly.
Our St Michaels Consultation Room Project is currently just over a phenomenal £9k, with money still coming in. We're simply blown away and can't thank you all enough. 
It's an amazing and emotional day for everyone involved, as we come together to do something so positive to remember our precious babies. 
If you've been inspired by our amazing runners this year and would like to be involved, we'll be recruiting runners for 2020 once we've got confirmation of the date (likely to be Sunday 3rd May but we'll let you know). The Bristol 10k is our main annual fundraiser as it's such an inclusive distance that suits both the more experienced runner, and those who have never tried running before.
We also had a few enquiries about taking part in the Bristol Half Marathon on 15th September. If you'd like to run for Bristol Sands, please contact us at bristolsandschair2@outlook.com where we can give you more information on how to set up a fundraising page so that the fundraising can come directly to us here in Bristol. 
Thank you everyone for your amazing support, we wouldn't be able to do the things we do without you. 
Charlotte
Bristol Sands Chair'