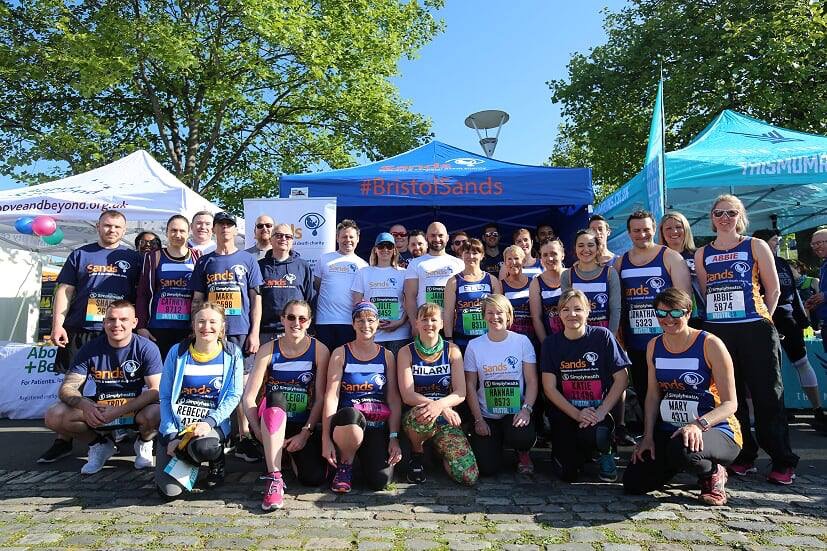 Bristol 10k - 2020 #10kfor£10k
Are you looking for a challenge for 2020 or just want to set yourself a new personal goal?
Team Bristol Sands at the Bristol 10k are back and we want YOU to join our team.
We are looking for runners to join Team Bristol Sands for 2020, we'd like to make this year our biggest and best yet. It doesn't matter if you're an experienced runner or you've never tried it before, this is a great event to start and help us raise some vital funds in the process. 
This year we're really challenging ourselves to raise our entire annual running costs in one go - #10Kfor£10K – and we'd like to beat our highest number of runners from last year too – 53 – but we need your help to achieve this. 
It costs just under £10,000 to be able to provide support locally in terms of meetings, phone support and remembrance events, along with supporting our hospitals maintain their bereavement facilities and with training for healthcare professionals. There are so many ways that Bristol Sands makes an impact locally, by hitting our £10,000 target will mean we can continue this work for another year and help support other areas within Sands, such as research, for the rest of the year.
In exchange for joining Team Bristol Sands you'll get:
✅A running vest or t shirt to wear on the day 
✅An individual fundraising page that you can personalise and let people know your reasons for supporting us, along with your own fundraising target to aim towards
✅Your fundraising page linked to our team page so you can see how your fundraising is helping to achieve our overall team target of £10,000
✅A chance to win one of 5 free running places on offer – more details on how to apply for these will follow shortly, keep checking online for further info 
✅Support on the day from Team Bristol Sands from our own marquee within runners village, access to water and other refreshments and we're hoping to be able to confirm something new and exciting for 2020 🤞🏼👀
✅A dedicated cheer point along the finishing line for you friends and family to gather and watch you finish the race, which means you'll know where they'll be to give them a wave as you finish 👋🏼
✅Access to support materials to help with your fundraising 
✅A great feeling from taking part in this event and being part of a team of runners – just ask some of our previous runners 🏃🏻‍♀️🏃🏻
All you need to do for the moment is register your interest in joining the team at bristolsandschair2@outlook.com and confirm that you're happy for us to contact you in respect of the Bristol 10k event. No need to to anything else yet, full details of fundraising pages etc will follow, and we will also bring you details of the free places on offer, so don't register with GreatRun yet if you're interested in applying for one.
The only other thing we need you to do it tell all your friends, family and work colleagues and ask them to join the team too! You could even create your own mini team within Team Bristol Sands for competitive friends and work colleagues? 
Any questions then please don't hesitate to contact us – thank you for your amazing support! We're already looking forward to this fabulous event.
#10Kfor£10K